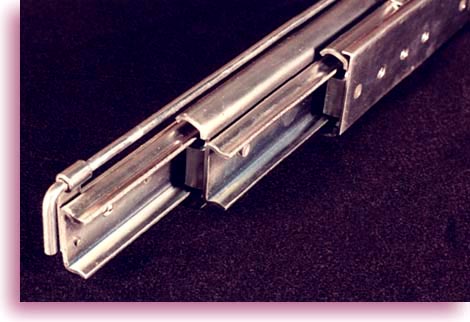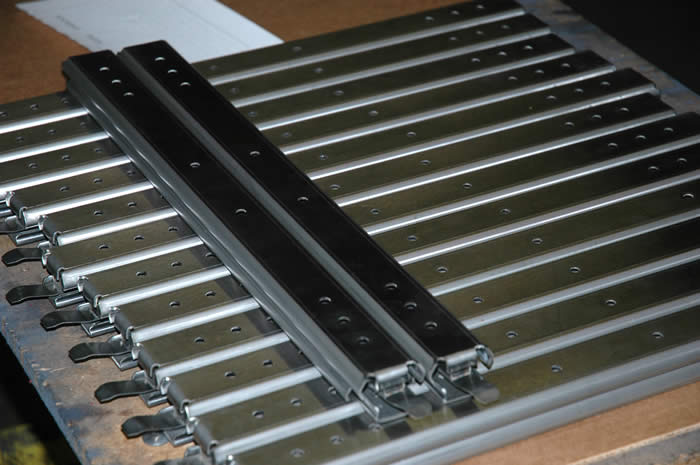 Our ball bearing drawer slides are made from prime hardened cold rolled steel, stainless steel and hard anodized aluminum. Front and rear mounting brackets are available. All slides quality zinc plated. Inner (chassis section) removable from the rear when specified. Special combinations of lengths, engagements, mounting hole patterns, etc., available. Choice of positive locking in both directions in full extended position or stop-out only which enables easy entry of chassis into cabinet without manipulation of catches.
SUPER HEAVY-DUTY BALL BEARING SLIDES
SHD3B2 MODELS IN STAINLESS STEEL OR COLD ROLLED STEEL CAN BE FABRICATED TO CARRY LOADS OF 2000 POUNDS, 3000 POUNDS AND 5000 POUNDS!
SSHD3B2 (SUPER, SUPER HD3B2) MODELS CAN BE FABRICATED TO CARRY LOADS OF 7500 POUNDS, 10,000 POUNDS AND 15,000 POUNDS IN LENGTHS UP TO 18
IF NECESSARY, WE HAVE METHODS TO FABRICATE SSHD3B2 MODELS TO CARRY LOADS UP TO 20,000 POUNDS AND MORE!
AT LAST THE BREAK-THRU NEEDED FOR HEAVY-DUTY APPLICATIONS IN THE OIL AND GAS INDUSTRIES, TRANSPORTATION, ETC.
FOR MORE INFORMATION PLEASE CONTACT OUR ENGINEERING SALES DEPARTMENT!
| | | | | |
| --- | --- | --- | --- | --- |
| | | | | |
| | | | | |
| | | | | |
| | | | | |
| | | | | |
| | | | | |
| | | | | |
| | | | | |
| | | | | |
| | | | | |
| | | | | |
| | | | | |
| | | | | |
| | | | | |
| | | | | |